18 Things You Must Know Before Developing Your Mobile App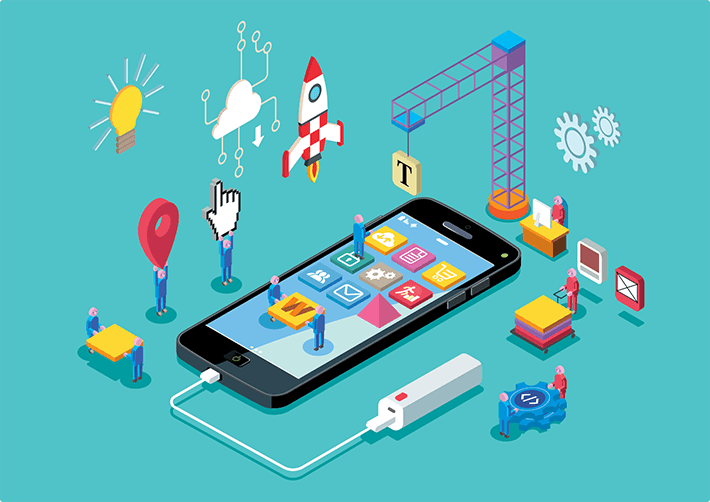 According to Statista, over 2.87 billion people are projected to use a smartphone by 2020, up from about 1.57 billion in 2014. Since a huge chunk of the general population already has access to this technology, with the amount bound to increase as the days go by, it's fairly important for companies to take advantage of this by developing applications for mobile devices whereby their target audience can gain access to their brand and its offerings from virtually anywhere.
If you are a business owner who is planning to develop and design a compelling mobile application for your potential and existing clients to use, here's a list of 18 things that should be considered before going ahead with your plan.
1. Platform
The goal for your app is to reach as wide a number of users as much as possible, so choosing the right platform is the key to its success. To determine which platform to launch your mobile application on, be sure to consider various aspects such as the target audience, as well as the country where you are planning to release the final product.
2. Hybrid or Native
Both hybrid and native apps have their pros and cons that should be considered during the development stage. Hybrid apps are web applications in the native browser that are developed using CSS, HTML, Javascript, and bundled in a native app, while native apps are smartphone applications that are developed specifically for Android and iOS. So far, hybrid apps are trending upwards in terms of popularity because the pros of their usage vastly outweigh the cons.
3. UI/UX design
UI/UX design is one of the most crucial stages in app development because most of the time the users don't revisit applications that are not user-friendly and engaging. If you want your mobile application to succeed, then do your best to make both the User Interface (UI) and User Experience (UX) as great as possible. Also, remember that an excellent UI is nothing if the UX is bad, and vice versa.
4. Icon design
With the massive amount of applications that are currently available on the app store, it can sometimes get tricky to create an icon that can not only manifest your brand's identity but also be interesting enough to be worth checking out. So when it comes to designing your mobile app's icon, be sure to make it unique, visible, and attractive so that it stands out from the rest.
5. Target audience
It's extremely important to know your target audience beforehand so that you can tailor your mobile application according to their needs and desires. After all, the key to getting more success and popularity with smartphone apps is to meet the users' expectations.
6. User experience
One of the things that mobile users hate is if they are forced to go through a generic user experience, where tapping on an ad redirects them to a download page or an app activation area. To avoid this, you can create informative landing pages where users will be redirected to learn more information about the ad they tapped, not just some generic page that will make them regret tapping in the first place.
7. Engrossing qualities
The tendency of people to get bored easily over one thing gives them the urge to try out something new from time to time. And with the presence of millions of mobile applications in app stores, it's kind of difficult to be able to offer something new to users that other apps haven't been able to serve yet, although it is doable. All you have to do is add interesting features to your mobile application that will keep the users engaged every time they use it. Also, rolling out new updates on a regular basis can keep them coming back for more.
8. Progressive indicators
One example of a bad user experience is when the user doesn't have any idea whether your mobile application is working or malfunctioning while loading. You may lose them from the very beginning if they are kept in the dark while waiting. To avoid this, you can add progressive indicators like loading bars and animations, informing them that the application is working properly.
9. Single platform focus
In the case of smartphone applications, being a master of one trade from the beginning is better than trying to be a jack of all trades from the start. If your attention is focused on mastering a single platform first, then the overall quality of your mobile application will be much better. You can always proceed to launch on other platforms once you've mastered one platform first, so there's no need to rush and spread yourself too thin.
10. Marketing strategy
What's the purpose of developing and launching a mobile application if the users don't know it exists in the first place? To ensure that your target audience is aware of your upcoming application, it's important to begin app marketing at least 2-3 weeks before the launch. That way, you can generate that much-needed buzz which will get your mobile application the overwhelming response necessary for a successful launch.
11. Minimal scrolling
Users can get annoyed if there's too much scrolling in the mobile app, since it becomes a tedious task to do. Try to do your best to make your app's design simple yet comprehensive so that the users can easily reach the content they are looking for. You can compensate for the lack of scrolling in your app by creating a navigation panel that will direct the users to other specific points that they may need.
12. Application testing
Launching a mobile application filled with bugs and nuisances can lead to a bad user experience, so make sure that your app undergoes alpha and beta testing first before you release it to the open market. Testing your mobile app can help you identify any issues early on, giving you the ability to perform the necessary fixes and make it much better before its release.
13. Regular app maintenance
Everything about mobile devices, from their trends to their platforms, has a tendency to change at a rapid pace. Do your best to adapt to these quick changes by incorporating updates and additional developer expenses into your plan. This way, the users can continuously enjoy your app without experiencing any major issues.
14. Development method
Mobile app development has many different methodologies that have their own sets of advantages and disadvantages. In order to maximize the advantages, you should follow a development methodology based on the quality of the resources currently available to you.
15. Overall value
One of the most significant aspects of mobile application development is identifying how it could help your business and benefit your clients. As long as you are certain that your mobile app adds value to what your company is trying to do, then hitting the right spots during the development phase will become much easier.
16. Analytics
Mobile app developers often make the mistake of underutilizing the power of analytics; some of them are not aware that the implementation of mobile analytics can come in handy whenever there's a need for well-informed decisions during projects. Using the data gathered from mobile analytics, you can enhance user engagement, retain users, and strengthen the overall user experience.
17. Touch design
Because mobile applications are almost exclusively used while in a person's hand, it's extremely important for you to design your mobile app around ergonomics and touch. The button layout should be located where a human thumb can easily reach it, visual cues should be used to show that an object has been touched or is untouchable, and the usage of gestures should be maximized so as to add a lot of usability to your app.
18. App development guidelines
Platforms have their own sets of guidelines and components that only work for them and them alone. Trying to change things up by implementing the guidelines for an iOS app to an Android application you are developing can hence lead to a bad user experience. If you want to give the users a good user experience, then you should strictly follow the app development standards for each platform.
---