2019 Website Design Trends: Best Practices for 2019 and Beyond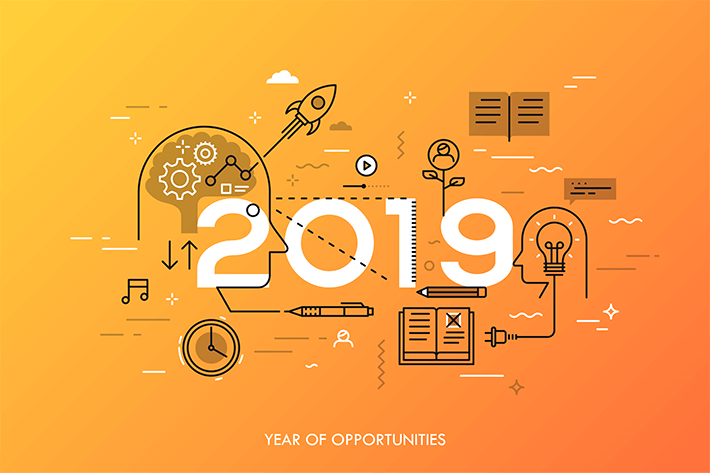 Web design is one of the most powerful digital mediums out there. Because of the huge role it plays, it is expected to undergo more shifts in technology than any other platform, especially when compared to traditional print media. It is a challenge for web designers to continually cope with the technological innovation required to ensure that websites are functional and useful for consumers. That does not even take into account the corporate goal, which is eventually used to convert website visitors to customers. For now, it is important to understand, learn, and adapt to the emerging 2019 website design trends in order to stay relevant.
What Are The Top Website Design Trends for 2019?
For the creative types, you may be naturally inclined to resist the trends. Keeping tabs on the prevailing trends would be defiant of their desire for creativity and imagination. However, current web design trends provide a platform with which you can explore your creativity. With that in mind, it is now time to delve into the 2019 website design trends that are poised to stay relevant even beyond 2019.
1. Minimal and Comfort.
One of the most notable website trends for 2019 is the minimalist approach. A return to basics is exemplified by the use of simple home pages. This approach to website design is seen as a gateway to information. This particular trend is used heavily in e-commerce websites these days. It is known to improve the call-to-action response on the page. The clean lines and negative spaces (mostly white spaces) draw attention to your CTA. Every other detail is highlighted in the process.
2. Vibrant, saturated color schemes
2019 is the best time to experiment with vibrant and saturated colors on your website. Brands have typically played it safe with neutral or primary colors. But if you want to keep up with the 2019 web development trends, now is the time to try vibrant and super saturated colors.
3. Particle Backgrounds
The use of particle backgrounds is a great trick to overcome the challenges of using video on your homepage. A lightweight JavaScript is needed to create these animations. It won't take too long to load and yet you can incorporate movement into the page. Given the power of video in marketing, it is an important element to have on your homepage.
4. Dynamic Gradients
Dynamic gradients add a touch of color and boldness to your website design. The use of images in the web design sphere is already a given. However, with the use of dynamic gradients, it can make these photos stand out or be highlighted on the page even more. It adds a sense of intrigue and it definitely captures the eye of its viewer.
5. Shadows for Extra Depth
In connection with the tactile design, the use of drop shadows is one of the major elements used in web design for 2019. This element creates a sense of depth to your website, which makes it feel more interactive and real. You can also play with shadows and colors to establish a visual hierarchy among these elements.
6. Custom illustrations
Graphic designers become more valuable to your team as they help to create images that are not only unique but are consistent with your company branding. Current website design trends like the use of custom graphics are built on the fact that they are visually arresting. Thus, they can leave a lasting impression on your visitors.
7. Big, Bold Inventive Typography
One of the prevailing trends for 2019 top web design trends is focused on bold typography. It has to be big, bold, and expressive, yet consistent with your design language. With a robust lineup of fonts to choose from, the typography is more than just a supporting role for website design – it is a powerful visual weapon!
8. Integrated Animations
Design and movement help to invoke feelings and emotions in your website visitors that written text simply cannot. Thus, integrated animations should be considered when revamping your website design this 2019. It is a design approach that makes a big impact.
9. Drop Shadows & Depth
The use of shadows in website design for 2019 was already mentioned above. However, drop shadows are different because they add depth and a sense of realism on the screen. It departs from the traditional flat design of the past and creates a three-dimensional effect on your website design.
10. Micro-interaction
Micro-interactions are tiny design elements that make a big impact. They might not be easily noticeable but they can make a different overall experience because of the value they communicate. They can be in the form of emoticons or animations – anything that captures the eye of the user and communicates a message.
11. The Evolution of AI and VR
Artificial Intelligence (AI) is slowly making its way into web design, and it will be one of the top 2019 website design trends. The use of AI is evident in the presence of chatbots. Over the next few years, you can expect more real-time applications as machine learning continues to advance.
12. E-commerce Boom
The focus on e-commerce website development is another hot topic for website design for 2019. The ease of user navigation, layout of products and categories, use of grids, and adaptation are among the highlights of a winning e-commerce website design. With e-commerce sales predicted to double in the next year or so, make sure you maximize that with an efficient website design.
13. Futuristic Designs
Tactile design is one of the most interesting 2019 website design trends. The aim is to make objects appear real in a virtual space. Layers are added in the form of drop shadows in order to add a sense of realism. The designers must utilize the space correctly in order for the users to identify what elements they can click on and to which pages they are pointing to. Even though the design is unconventional, it somehow seems intuitive.
14. Monocolor and Hybrid customized Icons
This is another element of website design that is consistent with the minimalist trend. Create a sense of symmetry and uniformity in the overall look of your website by opting for customized icons using only one color palette. This also makes the icons more visually appealing, especially when there is plenty of white space around it.
15. Make Your Content Print Ready
While this is now the digital age, print is something that you simply cannot ignore. A huge percentage of web users still rely on printed materials to consume the information they want. Thus, make life easy for your web visitors to print your content whenever they want. This means that you need to format your text and their fonts to make it print-friendly.
16. Responsive
This is probably one of the most resounding themes for new website design trends. Responsiveness refers to the ability for your website to become usable regardless of what device is used to access it online. You need to consider that during the initial website build, you need to ensure a great experience for your users, whether they are viewing your website from a computer or a mobile device (such as a smartphone or tablet).
17. Animated GIFs
Animated GIFs embedded into a site's design will continue to be showcased in 2019 sites. This is because this website design trend is an easy way to catch your audience's attention while conveying certain information. A good way to utilize GIFs in your site's design is by creating engaging and relevant GIFs specifically crafted for your site in order to drive engagement, as opposed to pre-made GIFs.
18. Flat Design
A more specific minimalist design scheme for 2019 is the Flat Design for your sites. A Flat Design scheme for your website enables your site to load fast while still maintaining a clean and attractive appearance. Usually, it involves making use of simple images, and it is highly preferred by users who dislike a noisy design scheme.
19. White Space
White Space website design trends are sure to be in new website design trends as a continuation of the minimalist preferences of the modern day. White Space, also known as negative space, provides breathing space for your site's menus and items and graphics through wider spaces in between. It gives a refreshing and simplistic design that makes a site look clean and approachable.
20.Website Accessibility
In this day and age, an inclusive interface for any website is important and supported. This is why for 2019's website design trends, one of the more interesting and positive design schemes considers website accessibility for people with disabilities. It is crucial that a site considers people from all walks of life, so accessibility is one of this year's top design trends to support.
21.Great Writing
Today's society is very fast-paced and so we expect users to consume content quick. In recent years, this may have meant a reduction in writing quality for the sake of quicker reading. However, this year's website design trends may prove again that content is king. Great writing is taking center stage again and is proving that good content does not have to be long content.
22.Large, Experimental Navigations
Lastly, one of the trickier website design trends of 2019 is large and experimental navigations. The key to mastering the art of experimental navigations in your site is by making sure the navigation steps of your website are easy to understand and do not otherwise frustrate your users. If executed well, an experimental navigation experience for your site can make you an internet stand-out.
Final Thoughts on Web Design
These 2019 website design trends showcase the huge advancements made in the industry. Studying the top trends for web design is a good point of reference so you can re-evaluate your design strategies. However, you need to identify which of these trends are applicable to your industry and branding goals. Otherwise, you could spend a lot of time and money re-designing your website for nothing.
---